Figs and zucchini flowers: The gaksei (student) way
I have never (and possibly may never again) eat so many figs and zucchini flowers in the course of three days. But the gift from my mom also came with the warning that they were highly perishable and thus had to be prepared almost immediately.
And we had the perfect excuse - Valentine's Day! No, no romantic candlelit dinner for two at home, but rather a gathering of the few sensible people in Singapore who refused to pay for overpriced generic restaurant meals that day. Our cosy dining crew consisted of
Joone,
brother Greedyboy (who gave him that name?), and Elaine and Marc. As testimony to why women are generally referred to as "the better half", Elaine had earlier made Marc cancel their reservation at Saint Julien... I then, in a hasty moment of bravado, declared that dinner would be better than at Saint Julien. No pressure!
Given that we'd already had figs as a starter and fried zucchini flowers on Sunday, I thought I'd play around with the ingredients a bit more. Figs therefore slid down the order of service (but not the order of importance!) to dessert, while the zucchini flowers made two appearances, first fried, then baked in a tart.
We began our meal with a classic foie gras terrine, courtesy of Marc: (all credit to Joone for the gorgeous photos)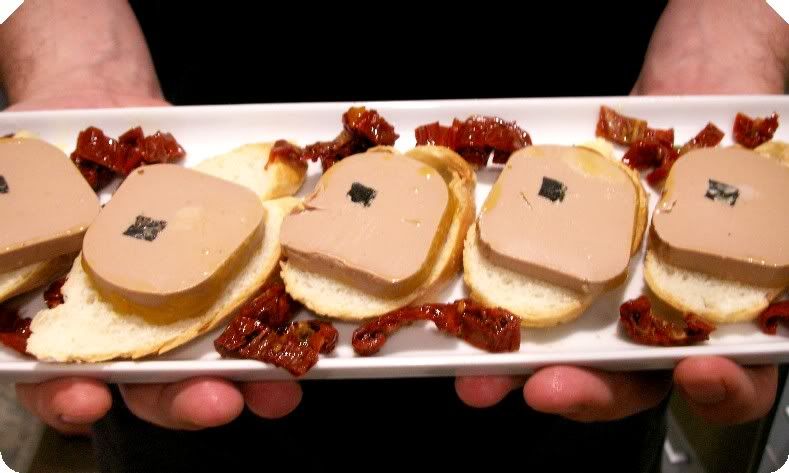 Next up, a saffron chicken broth with risoni:
We then launched into the first star of the evening, the fried zucchini flowers stuffed with chopped wagyu and emmenthal. While the delicate sweetness of the zucchini flowers are typically paired with light cheeses, rice and vegetables, I had also come across some meat-based Italian and Mexican recipes that I was keen to adapt. And since I'd also recently been craving Philly cheese steak (one of the few things worth eating in Philadelphia), we ended up with this combination.
The below pic is before frying, the flowers are really pretty in their own right with their blazing orange tips. What looks like the stem of the flowers are actually baby zucchinis, which add a lovely healthy, albeit deep-fried, crunch against the gooey beef and cheese.
As an aside, preparing the zucchini flowers prompted one of those rare moments when you finally call upon some (what you thought for years to be) useless facts that you painfully learnt in school - i.e. I had to remove the pistil of the flowers prior to cooking. Our dinner was quite possibly delayed by a good five minutes as I stood by the sink, overwhelmed by memories of pistils, stamens, pollination diagrams and whatnot. Long belated thanks to Secondary School Bio Teacher (her name eludes me now, a petite Indian lady who was perpetually pregnant) (I remember her name now - Mrs Prama!) - without you, dinner would not have been possible!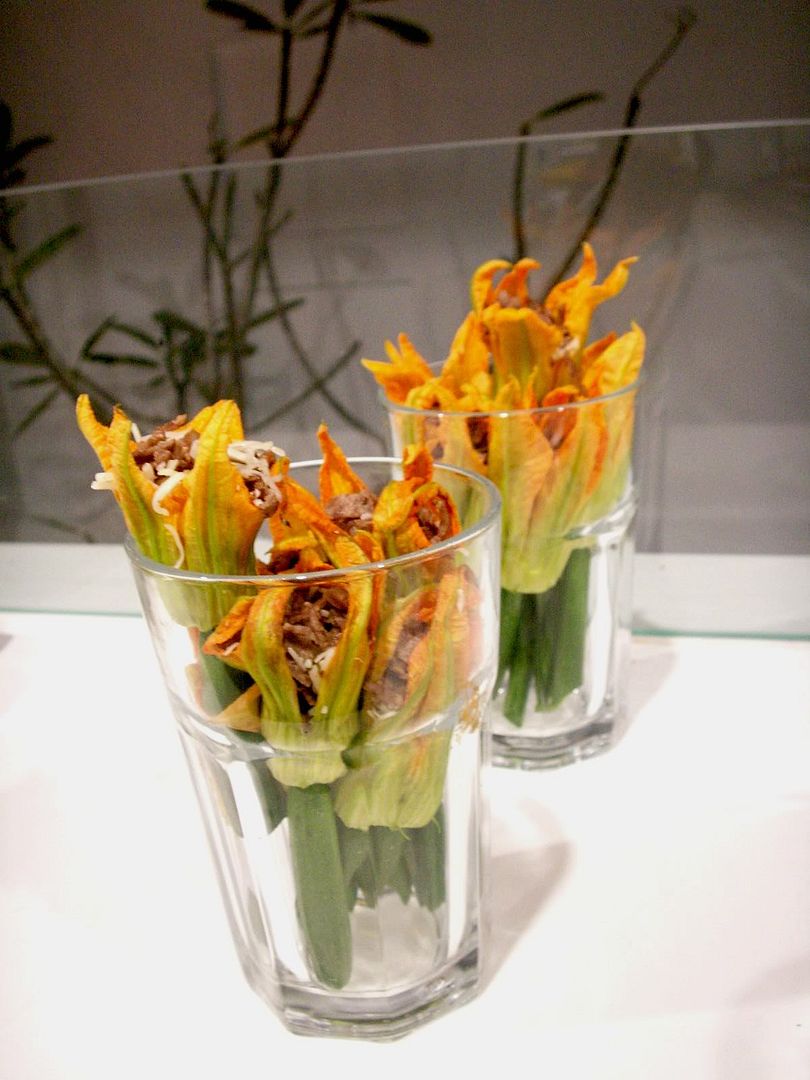 (then after frying)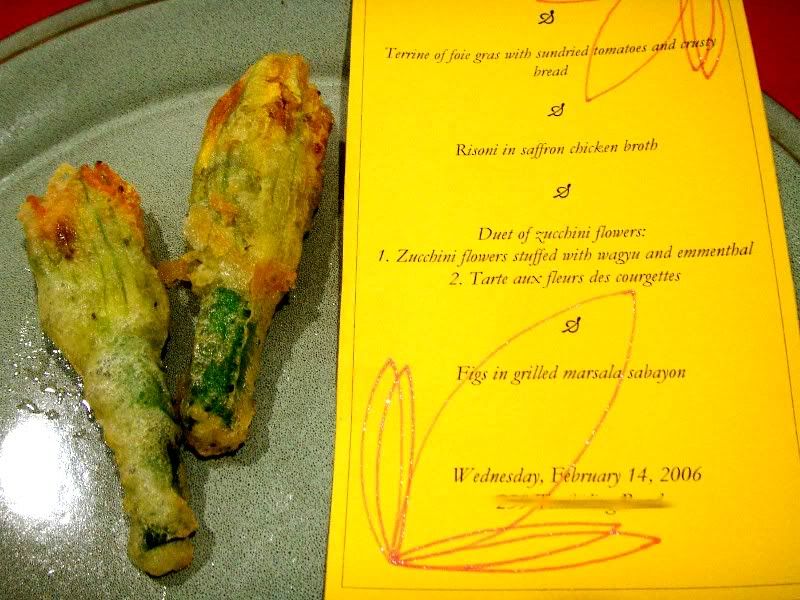 These were intended to be served together with the zucchini flower tart (or Tarte Aux Fleurs de Courgettes, to sound fancy), but upon much consultation we decided the tart would benefit from a few extra minutes in the oven.
The tart employed a more traditional approached - the flowers were stuffed with cottage cheese and herbs, then baked on a shortcrust base held together by cream and sprinkled with chopped almonds (recipe at end).
The figs made their appearance during dessert, peeking out of a marsala sabayon: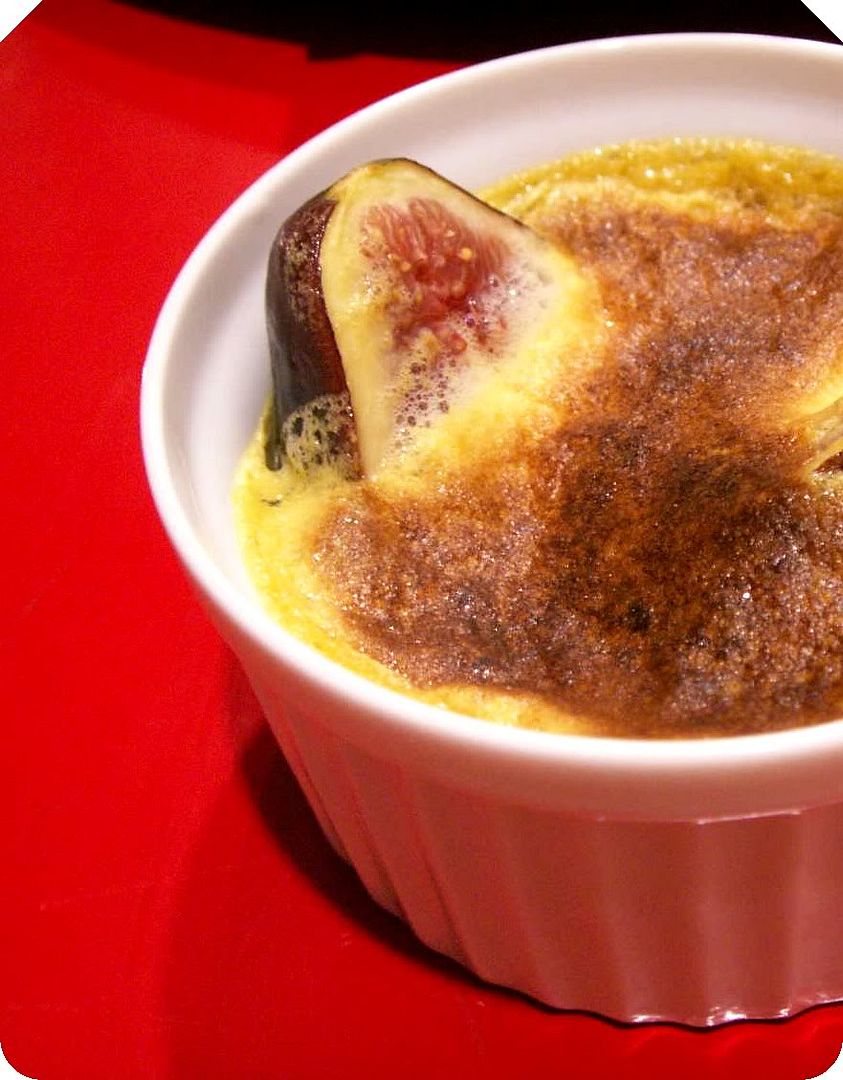 I'd been drooling over Donna Hay's Figs in Grilled Honey and Marsala Sabayon for a while - in fact, it was this recipe that prompted the e-mail to my mom for figs in the first place. That said, I'd harboured slim hopes of finding marsala, the sweet Italian wine, in Singapore, and figured that at best I'd substitute port for it. I was therefore amazed to find a bottle of marsala sitting on a shelf in my friendly Cold Storage at Katong Mall - all the more so because the outlet is fairly small (although it bears the distinction of being one of only two 24-hour Cold Storages in Singapore).
The figs ended up being a heady mixture of sweet honey and strong alcohol, and definitely not for the weak of heart, but they found an unlikely partner in the chocolate chili cake that Joone had brought. The dense chocolate cake and the bite of the chili complemented the figs and sabayon perfectly, and made for speedy eating. Joone, care to post the recipe?
And there you have it. The conclusion of our whirlwind love affair with figs and zucchini flowers... till we meet again!
Saffron chicken broth with risoni
Serves 6
3kg chicken for soup (necks and backs recommended)
2 medium onions, quartered
1 tsp saffron threads
1 1/2 tbsp whole black peppercorns
1 tsp coarse grain sea salt, or to taste
3 cups risoni
Bring all ingredients except risoni to boil in a large pot. Reduce heat and simmer for 2 hours.
Prepare risoni as per any other pasta, in a pot of salted boiling water, until al dente.
Serve risoni in strained chicken broth. Freeze any remaining broth for future use.
(Chicken broth recipe courtesy of Epicurious.com)
Fried zucchini flowers stuffed with wagyu and emmenthal
Serves 6 as a starter or tapa (2 flowers per person)
12 zucchini flowers, pistils removed
200g wagyu beef, shabu-shabu cut
50g shredded emmenthal
Tempura batter, per instructions on box (note some batters call for the addition of egg yolk while others don't. I prefer the egg yolk ones as they give a richer batter that adheres better)
Oil for deep frying
Gently wash zucchini flowers in cold water and pat dry, being careful not to tear the petals.
In a shallow pan, stir fry wagyu in its own fat until lightly cooked. Chop finely and let cool.
Carefully stuff zucchini flowers, first with the beef, then the emmenthal, followed by a second layer of beef.
Coat stuffed flowers in batter and deep fry. Pat dry on absorbent paper towel after and serve immediately.
Tarte aux Fleurs de Courgettes, or Zucchini Flower Tart
Serves 6
8 large zucchini flowers
Store-bought shortcrust pastry, half a sheet
Chopped almonds for sprinkling
For stuffing:
1 cup cottage cheese
1 tsp fresh tarragon, finely chopped
1 tsp flat leaf Italian parsley, finely chopped
1 egg yolk
Salt and pepper to taste
For cream:
1 1/2 cups cream
1 egg
1 egg yolk
Salt and pepper to taste
Preheat oven to 180 degrees. Line base of ovenproof casserole or tart dish with two layers of shortcrust pastry, pierce with fork and bake blind for 10 minutes. Remove tart base from oven and let cool to room temperature. Maintain oven temperature at 180 degrees.
Whisk stuffing ingredients together and gently fill zucchini flowers, using a piping bag if necessary. Arrange stuffed zucchini flowers on tart base.
Whisk cream ingredients together and pour over tart base and flowers. Top generously with chopped almonds and bake for 7-10 minutes, or until top is golden brown and tart is firm. Serve warm.
Figs with Grilled Honey and Marsala Sabayon
Serves 6
6 large fresh figs, halved
5 egg yolks
2 tbsp sugar
2 tbsp honey
1/3 cup marsala
Preheat oven to 180 degrees. Arrange 2 fig halves in each ramekin and set aside.
In a heatproof bowl set over simmering water, whisk egg yolks, sugar, honey and marsala for 5-7 minutes, or until ribbonlike trails form. Remove from heat and whisk for additional 3-5 minutes, or until mixture has cooled slightly.
Spoon sabayon mixture over figs and bake 2-3 minutes, until sabayon has risen slightly and tops are golden brown. Serve immediately.
(Recipe from Donna Hay's Modern Classics 2)